June 1999
Fathers pass 3000 to next generation

Family businesses tap talents of sons and daughters to extend MPE legacy of success
Editorial: 3000's legacy a family history
It's said that one of the hardest things for a father to do in our modern world is teach something to his children from his own experience. But in the world of the HP 3000, experience is more durable. The computer with a 26 year legacy of success is capturing the energies of second generation, as fathers in the vendor community work alongside children who have matured with MPE.

In celebration of Father's Day we looked for men who have shared their business passions and their advocacy of the HP 3000 with their sons and daughters. Each corner we turned uncovered more benign nepotism, partnerships bound through blood and that stretched across generations. Working alongside your father was once commonplace in our culture. These families have preserved that value into a new millennium, much like the HP 3000 preserves a mature value of reliability into the next decade and beyond.

No study of fathers in the 3000 community could begin anywhere but with its original Russians, a pair of men in longest standing as an HP 3000 father and son team. Vladimir and Eugene Volokh represent the founding partnership of VESOFT, an MPE utility software supplier that began business in 1980 when Eugene was 12 years old — and writing the company's founding MPEX product for his father.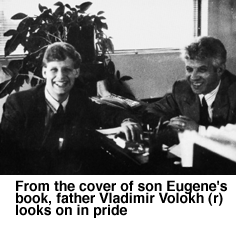 Vladimir recounts how he had to virtually smuggle the genius talent of his son out of Communist Russia in the 1970s, or lose the boy to the State's apparatus of schools and Soviet industry. Emigrating to the US with his wife Anne, Vladimir took a job far below his advanced university degree as a computer operator. Anne worked as a secretary with her degree in literature. Within a few years Vladimir was consulting, and an idea for a better MPE command set was born. Eugene began doing the coding after working on application development.

Nearly 20 years later, the company counts more than 13,000 packages (MPEX, Security and VEAUDIT) sold in the HP marketplace. The flame of Eugene's youthful intelligence has leapt from computers to law; after clerking for US Supreme Court Justice Sandra Day O' Connor, Eugene is now a 31-year-old professor at UCLA's Law School, and specializes in cyberspace issues. But he remains the key programmer for VESOFT, and still remembers one of his earliest experiences computing next to his father.

"Even in Russia my father took me to his office, where I saw a computer and a digital calculator for the first time," Eugene said. "It was interesting, especially to a six-year-old. But within two years after we were in the US, my father started taking me around in the evenings on his business. To him, it was always part of bringing up his son. It started out that I'd play computer games, but then he had me write a very simple program, printing out business cards on green-bar paper, four to a page in FORTRAN. It was just a loop and a write statement, but it was a computer program, and it was fun!

"At a certain point he went to work for a company that let him keep a terminal at home. I started by just goofing around, but eventually it got down to serious work. It was such fun, because it was bending the computer to your will. It was instant gratification, and it came from doing something you knew was useful."

For Vladimir, the experience of exposing his son to the HP 3000 was a sharing that led to a professional bond. "As parents you cannot really push children," he said. "But you can follow their interests and just help them. When I was a systems analyst on HP computers, Eugene was 11 years old and I took him to the shop, like good parents should do. All this talk about taking your children to the office one day a week — I did it long before it was cool."

Eugene did development for MPEX after the seeds were there for the product, Vladimir added. "After he received a certificate of appreciation from the real estate company where he did an application program, we started thinking it was more serious than we had thought. To kind of bypass the child labor laws, we created the VESOFT company. Management of that company couldn't be accused of exploiting the child."

Vladimir had a gifted programmer on his hands, "and because of Eugene's ability, it quickly became a son-father company, instead of a father-son company." While many fathers hope their children can stand on their shoulders to exceed their own skills, "it happened much sooner for me," Vladimir says. "That was just a sheer luck kind of thing, and I'm very happy about that."

Vladimir is proud of his son's accomplishments in the HP 3000 community, including four editions of a "Thoughts and Discourses on the HP 3000" technical textbook on MPE. "Sometimes when I'm with customers they will ask me to sign Eugene's book, and I do," he said.

Conflict isn't a major element of these two men's lives in business. "We talk about development and consult each other, and in some places I have more practical sense of what will work with users," Vladimir said. "It works very well. We didn't have disputes. Eugene is more technical, but he has a practical sense from developing an accounts payable system. He felt what people needed. There's no dramatic contradictions." Vladimir said when they arrived in the US, producers in Hollywood were interested in making a miniseries about the family — but the project was abandoned because "there was no conflict to write about."

"We had the usual father-son conflicts when I was 10 or 11, but in a very mild way," Eugene recalled. "When I started working, the conflicts dropped down to almost zero. I remember my mother telling me, 'Your father really respects the work you are doing.' When we started working together I believe it really enheartened my dad, and made him feel like conflict was a lot less necessary. He was happy to turn over the programming to me pretty much from the beginning."

Vladimir feels his work with his son helped keep the boy away from the negative influences any young man can be tempted by. "You can't 'Just say no,' " he said. "You have to say yes, but to something else, by introducing positives. What can be better than working together, and creating common ground? The family that works together stays together."

If working with his father was the first job Eugene held, for other sons and daughters of the 3000 the work was something they graduated to, often in lieu of completing college work. Chris Miller and Shirley Vestal both work in their families' firms in this way. Miller is Sales Manager at Genesis Total Solutions, a provider of HP 3000 financial software since the 1970s. And Vestal is a sales account rep at Design 3000 Plus, which has delivered scheduling and monitoring software for the HP 3000 since 1985.

Miller works with his father Bill, and the younger Miller left Auburn University to take his post at Genesis. He's been with the firm for eight years, after stuffing envelopes and the like in high school. The teaching has gone back and forth between father and son.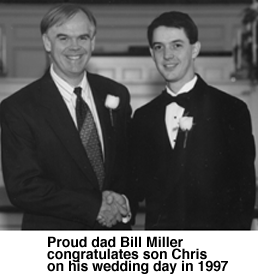 "He used to be a programmer, but now it's a total role reversal, and now he's training people more than being in the technical side," Chris said of his dad. "It's typical of the generation gap for computers. I've got to learn the details of running the business, and he's got to learn PCs and networking them. We go back and forth on that."

Miller said working for his father's company was "always an option. I knew it was something I could come back to and pursue if I wanted to. From a small-business perspective, [the 3000's durability] makes it easy — we don't have to re-invent the wheel. There would be a lot of time and expense moving all the stuff off the 3000 and onto an NT or Unix platform. I don't know if a small business could take that."

As a family business, Genesis can make decisions more quickly, Miller said. "If we were in a corporate office and he was the president and I was in this other division, I would have to make a report to my supervisor. In this case I can just call him at home. It makes us a lot more efficient to talk outside the business." The Millers talk business while they golf together, too.

Working with your father "is not for everybody — but what I know is that my father says, 'How do I do this?' when he doesn't know, instead of 'I'm the boss.' He's very open to accepting my knowledge and slant on things. There has to be communication and trust on each side to make it work."

For Shirley Vestal, daughter of Ken Vestal at Design 3000 Plus, taking on a sales position "is probably the best move I ever made. I grew up watching my dad work two jobs, and I really respected him for that." Vestal, who works in the sales and marketing department headed up by her mother and Design 3000 co-founder Linda Johnisee, made the shift from school to the company more than two years ago.

"I see my parents all day long, and I love it," she said. "My father is probably single-handedly the most remarkable man on this earth. I came in here to answer phone one spring break, and they just liked the way I clicked with the customers. My parents took me to dinner the last day of break and offered me the job. The money was really good, but I was a little leery of working with my parents at first."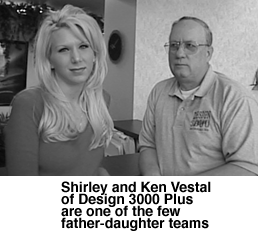 Shirley said that working with her dad "is great, because we joke around, ride to work together. He's protective of me." Her father worked as a systems analyst at Boyd Coffee while starting his own firm. "They allowed him to use their equipment after hours, and he'd be there until 11 at night. There were weeks where I wouldn't even see him, because I had to be in bed at 9 at night. I remember a dad that busted his butt to spend time with his kids on the weekend, but worked his butt off during the week to make sure we had what we needed. He started all this from nothing, and I think that's remarkable."

The maturity behind that admiration is what helps make the relationship work, according to her father. "A couple of years ago when she was in her teens, this wouldn't have worked," Ken said. "As daughters grow up, they come back to earth when they get past 20 or so. She's real capable and dedicated, and that's what's important to me. The job comes first."

Vestal said he didn't ever imagine he'd enjoy his daughter's efforts on behalf of the family business. "Daughters grow up, get married and move away with her husband. She's hung around."

For MANMAN/HP expert and founder of the Support Group, inc. Terry Floyd, working with his son David has been the return of an often prodigal son. David first began to work with his father by writing an application he finished at age 15 — but worked for another HP 3000 company as a programmer/analyst before returning to tSGi last year.

"David wrote a program I'd always wanted — a Labor Summary Report for the 3000 — in 1989, because there was no such thing in MANMAN," Terry said. "He wrote in FORTRAN and IMAGE, and called a subroutine I'd written, one that exploded a Bill of Materials 150 times faster than ASK had been able to. Every user should have it. We sold it for $1,500 four or five times, and David was filthy rich at 15, made about $4,000."

While David did take a FORTRAN class in college, learning IMAGE was an on-the-job education. His father brags that his son learned FORTRAN in night school and got the best grade in the class at age 15.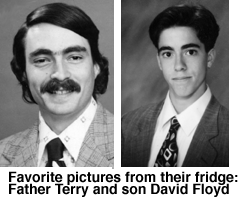 Working together on the Labor Summary Report "was a lot of trial and error, because we went back and forth, setting new goals and changing the specs, so he would get used to the real world," Terry said. "He learned a lot of IMAGE by himself, by looking at the ASK programs."

Working together on an application "that was unique and different was what really got him excited, and me too," his father said. "We worked in the house for so long, he couldn't avoid learning how manufacturing companies work." Later on when Terry taught a FORTRAN class, David was one of the students. "He'd ask questions like 'Could you explain that part to them a little better?' " Terry said.

"My dad and I worked on cars together that would last three years," Terry said. "But that's a lot more static than working with customers, asking you questions. When David's in the middle of that, he picks up on all that."

Terry is happy to have his son use his experience as a springboard. "There's a lot of stuff for us to talk about now, besides fun and cars and running around," Terry said. "He's been in and out of the company often enough to have five different employee numbers, including employee number three after me and [my wife] Caren."

The master-apprentice relationship between the two HP 3000 technicians moved faster because of the familial bond. "I'm a lot harder on him than I would be on anybody else," Terry said. "He's a test case, and I try things out on him. He's really into volunteering to help prototype ideas, and he's always done that with me. I've always told him everything, to give him the advantage of all the mistakes I've made. I don't just admit my mistakes, I advertise them. We're alike in many ways, and it's because we've worked together."
---
Copyright The 3000 NewsWire. All rights reserved.