August 1999
Fiorina named CEO; Hackborn to lead board
Lucent exec becomes first outsider to lead HP; retired VP Dick Hackborn to become board chairman at her request

HP took a dramatic step to convince investors and analysts that it is remaking itself, naming 44-year-old Carly Fiorina as company president and CEO as of July 17.
The new CEO was scheduled to make her first appearance before the HP 3000 customer base at the HP World conference on Aug. 17, according to conference organizer Interex. Fiorina was to be introduced by outgoing CEO Lew Platt at the show, just before the keynote speech from HP executive Ann Livermore.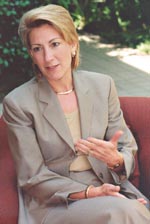 Fiorina edged out insider candidate Livermore for the job at the end of the search process, according to HP sources. Livermore remains CEO and President of HP's Enterprise Computing Solutions business, the group which includes the HP 3000 division (CSY). The two women were the finalists in the four-month search for HP's sixth corporate CEO, and HP said its board of directors' decision was unanimous.
"She is quite simply the ideal candidate to leverage HP's core strengths in the rapidly changing information systems industry and to lead this great company well into the new millennium," said board member Sam Ginn, who led the search committee.
The change in leadership is an opportunity for the HP 3000 market, according to Rene Woc, CEO at 3000 channel partner Adager.
"A small directive can make a big difference, and go a long way," said Woc, whose company has been offering HP 3000 software exclusively for more than two decades. "What can Carly Fiorina do that Lew Platt couldn't have done? There's something about being a new officer and at the same time having a clear directive. For those in [HP] who have been complacent or evolving slowly, her appointment sends a message about HP's presence in e-commerce.
"Even though there are initiatives and background work that have been done in e-commerce, there's some energy that a new CEO brings," he said. "We should strive to make sure that energy gets properly channeled to the 3000 platform."
HP's board was pushing for the company's first outside CEO to lead the company in its e-services initiative. Heading up AT&T spinoff Lucent's $20 billion Global Service Provider division, Fiorina was named America's Most Powerful Businesswoman last year by Fortune magazine. Oprah Winfrey was second on the Fortune list, while HP executive Carolyn Ticknor was ranked 22nd. Livermore was not on the list, having only been appointed to lead the Enterprise Computing Solutions business in October.
Livermore was quoted in a San Jose Mercury News report as saying she has no current plans to seek a CEO post in another company. "My intent is to stay," she said. "I think [Fiorina] is going to be a great leader for our company."
After Fiorina met with retired HP executive and board member Dick Hackborn during HP's search for a successor to CEO Lew Platt, Fiorina found Hackborn squarely in her corner.
Fiorina returned the support almost immediately on being named CEO. She asked Hackborn to take the chairman of the board role that Platt will be vacating at year's end, a position that she reported she needed to persuade Hackborn to accept. Hackborn is also a board member at Microsoft.
"I am extremely pleased that Dick is willing to take on expanded responsibilities at this important juncture in HP's history," Fiorina said. "His long and deep experience in all aspects of HP's business — and his strong relationships throughout the company and the computing industry — will be invaluable to me and HP."
Hackborn takes the head seat on the HP board in a non-executive role, because of his status as a retired HP VP. But the move is more evidence that Hackborn's position in the company is as keeper of the HP Way and kingmaker. Hackborn was reportedly offered the HP CEO position at the last transition, when CEO John Young was retiring in 1992. But as head of HP's printer business, headquartered in Boise, Idaho, Hackborn was loath to relocate to the Bay Area to accept the CEO's post.
Rick Belluzzo, the last HP executive who was in line to succeed Platt, was a protege of Hackborn's in that HP printer business. Once Hackborn retired from HP in 1993 and remained on the HP board, Beluzzo moved up to a post where he controlled nearly all of HP's computing business — essentially the same position Fiorina adopted. Beluzzo left HP in 1998 to become CEO of Silicon Graphics.
Hackborn had another protege on the HP insider list of candidates, Carolyn Ticknor, CEO of HP's LaserJet Imaging Systems business. Livermore, Ticknor, Duane Zitzner, and Antonio Perez — the four CEOs of HP's computing and imaging businesses — all report to Fiorina.
The new HP CEO arrives with a varied educational background, but almost all of her business experience has been with AT&T. Fiorina has an undergraduate degree in medieval history, an MBA from the University of Maryland and a master of science degree from MIT's Sloan School. In nearly 20 years at AT&T, she spearheaded Lucent's 1996 initial public offering and subsequent spin-off from AT&T, which HP characterized as "one of the largest and most successful IPOs ever," raising $3 billion.
Fiorina began her AT&T career as an account executive selling long distance service. She had started down the path in law, her father's profession. But she quit UCLA's law school, sold real estate in Palo Alto and taught English overseas before earning her MBA in 1980. At Lucent, she held top posts in regional sales, strategy, global marketing and market development.
"Leaving Lucent was a very difficult decision, but this is a once-in-a-lifetime opportunity for me," said Fiorina. "Hewlett-Packard is a company of great accomplishment and even greater potential. HP has a proud history, a powerful brand, superb technology, talented employees, strong partner and customer relationships, and an innovative new e-services strategy. I am delighted and deeply honored to have the opportunity to lead one of the most respected companies in the world — and I will strive to strike the right balance between reinforcing HP's values and working to reinvent its businesses."
Platt will retire from his 33-year career at HP at year's end, overseeing the spinoff of HP's instrument business until that time. "Although several exceptional HP executives were strong CEO candidates, now is the right time for fresh leadership," Platt said in a statement. "With Carly and the strong team already in place, I am convinced HP is in extremely capable hands as it prepares to move into the next phase of its development."
Platt oversaw the biggest growth in HP's history in his seven years as CEO, as revenues ballooned 187 percent to $47.1 billion, while its earnings grew 436 percent over the same period. He became chairman of the HP board in 1993, when co-founder David Packard retired.