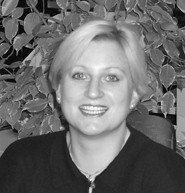 Alexandra Wiedenmann
Regional Business Manager
CSY Europe
Creating new customs and customers in Europe
European customs have a way of breaking ground for the rest of the world, and that trend has been true for the world of the e3000. In managing a territory with more than a dozen distributors and languages, leaders for the European e3000 business face challenges in channels and communications that make managing a country like the US seem simple by comparison. Earlier this year the e3000 got a new business leader for Europe in Alexandra Wiedenmann, Regional Business Manager for the Commercial Systems Division (CSY). She joined the CSY Europe team four years ago at its Germany headquarters, managing the Client Server program that gave her good working relationships with Europe's partners.

Last month Wiedenmann's team of managers presented a full day of customers, telling their stories about Internet and Web-based successes, at the "Let's Go e!" seminar in Amsterdam. It was typical of the kind of positive and forward-looking efforts of the European CSY team. Years ago, then-general manager Harry Sterling cut this group loose to tailor its message and business practices to a market very different from North America. For example, at the seminar we spotted a Web site full of in-depth data about virtually every Web-enabling tool available for the e3000, products tested and researched and by French CSY partner Cheops Technology. We asked Wiedenmann during a break in the seminar how Cheops' information will help the e3000 customer in Europe, and how this sort of thing might set an example for similar programs in the rest of the e3000 community.

It's exciting to see independent information offered in a seminar organized by HP. What role do you see Cheops playing in training e3000 customers about the possibilities of the Internet?

Cheops has already done 13 seminars in France, where they've talked about how to start with the Internet and about the tools as well. We are thinking about how to bring these seminars to other countries. There are different possibilities: train our partners in different countries, or really promote Cheops through different countries as well. As you know, in Europe we have language issues, so we have to find a way to do the next step. In France they teach in French, of course. The best thing is to do the training in the local languages. Cheops is able to do the training in English as well, but the customers in places like Germany want to get it in their language.

How is the e3000 business in Europe?

Actually we had a difficult year. We recognized that people really invested the year before, so this year was difficult. But we have seen in the last month that it's moving again, and the Internet projects and all the ideas around the Internet are taking off. It's really positive.

In the US, the number of available applications is an issue that has limited the growth of the 3000 customer base. Is it still true the number of applications in Europe isn't as much of a problem?
It depends, and it's different from country to country. We have some countries where we have lots of standard applications, and we have other countries where lots of the customers have home-grown applications. What we had to learn was that it is not so easy to bring a solution to another country. It's a local language issue, how they do business, it's really difficult. With some applications like the Smith-Gardner application it works out, but with others it's really difficult.

Smith-Gardner seems to be pretty organized around the UK, but are they making new sales for the 3000 in other European countries?
It was their plan to concentrate on the UK first, and then they want to move forward in the rest of the countries. They have enough business for the moment in the UK. We just won a new customer to HP in Denmark in Lego, the toys for kids. They went live three weeks ago, and all the end-users can order directly over the Internet their Lego kits. If you want blue bricks, you can put an order together online. Since they're a new customer to the 3000, it's great.

How much is the business falling off in the installed base in Europe?
You see some attrition, but it's kind of stable. We are winning some new customers, and there are partners in Europe winning new customers in specific markets.

Among the installed base, have you seen customers waiting for the N-Class system and coming A-Class systems? In the US there's a very large installed base of 9x7 systems — is that the case here?
It's the same in Europe. Yes, some customers are waiting, at the moment they don't have a need for new systems, so they can afford to wait. Others are still buying. One thing we've done in Europe, and this is just for Europe, is our Bridge Program. That's where a customer who needs more power at the moment and wants to buy a new system buys it now. And then as soon as they order an A-Class or N-Class e3000, they get some of their money back. We're rewarding him for having to invest twice, in order to avoid having customers wait to buy.

How much impact has Oracle's decision to move away from the e3000 had on the European customers? Was it any more installed in Europe than in the US?
I think it was kind of similar. I think the Oracle marketing message was a bad thing, but we really couldn't do anything about it. We wanted to influence it and change their minds, but we didn't have any chance to turn their minds around. I think from a business point of view the influence was big. It was more of the marketing message. For awhile there was some discussion of it [by customers], but at the moment it's quieted down.

For us it was really difficult, because we'd tried for a long time to convince Oracle, but we had no message to give the customers, yes or no. At the end, the impact wasn't too big — less than we thought.

Well, we did hear from Peter Herpich of Lindauer-Dornier that they are glad to be moving away from Oracle in their 3000 environment.

Yes, we are thinking of putting together a success story about what they are doing there. But that might be difficult to position.

Do you think the mobile aspect of e-commerce, like WAP applications, will break here first for HP's 3000 community? Do you expect your customers here in Europe will be leading in this before those in other parts of the world?
Overall for HP, Europe is advanced in this area. On the 3000 side it's a great message we can deliver. It's possible with the 3000, but I'm not sure people will really use those possibilities. It's nice that it's possible, and there's already one solution there [from Smith-Gardner]. Overall, I think the mobile business is just getting started. Definitely Europe is advanced in this.