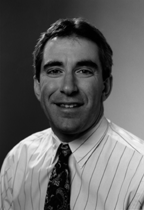 Dave Wilde
R&D Manager
HP Commercial Systems Division
Leading the labs to a new generation
After several years of work on the front line of HP's e3000 growth project, Dave Wilde will now get to carry the ball across the platform's next goal line. In June Wilde was named the new R&D manager for the 3000 labs, shifting his responsibility from leading the engineers working on the next generation of HP 3000s to all technical development for the platform. The promotion puts Wilde in a position that has produced 3000 division general managers for some time, but the easygoing Midwesterner is not looking that far ahead. Instead, he's preparing for an early 2001 debut of the first N-Class HP 3000s that will be ready for the long-awaited IA-64 processors, chip architecture in development since 1994. Key to the debut of the new 3000 generation is the 7.0 version of MPE/iX, code-named Bora-Bora, whose critical element is the support of new IO subsystems ready for full 64-bit computing. 7.0 also enables the arrival of the N-Class PA-8500 processing power, needed immediately by the biggest HP 3000 sites.
Wilde takes on an MPE lab now fully flung across the globe. While predecessor Winston Prather oversaw the first hiring and steps toward putting HP's 3000 engineers in Bangalore, the Indian operations now take the lead in several key development areas. Wilde said that having development staff in two time zones more than 12 hours apart can make for some very early morning management decisions.
Getting an early start on 3000 work is a habit for Wilde. He first encountered the system as a high school student in the 1970s, working at Crawford's Department Store in Chicago doing data entry on the 3000. He took his computer science degree to HP in 1984 and did his first two years in the Electronic Instrument Group, where his first project was to create a VLSI IC tester. He made the transition to software as the R&D manager of HP's Allbase database core and interoperability project. And eight years ago he entered the HP 3000 division, when Allbase made the move into CSY labs along with the more pervasive HP 3000 database, IMAGE. Project management and more R&D with some of HP's biggest 3000 accounts led him to his prior post as lab section manager, handling the growth-related designs for the next generation of 3000s.
As long time customers of the 3000 remember, first steps into a new generation of systems have the potential to be hobbled with delay and disappointment. The project that produced the first PA-RISC 3000 generation faced grave delays more than a decade ago, ones that only engineering management could resolve. Wilde and others at HP have pointed to next year's PA-8500 N-Class systems as crucial stepping-stones to the third generation of the system. We asked him how the labs are equipped to handle the challenge of crossing the first goal line in the game to enable next-generation architecture for the system.

You've spent the past few years in the growth part of 3000 development. How's your briefing on the other part of the lab's work progressing?
I've already had some level of awareness from other meetings that I've had on the HP 3000 Business Team.

Can you describe how the CSY R&D manager stays up to speed on details?
I'm still learning what the role is. You have an impression, but you get educated as you go through it what the responsibilities are. At HP, when you go into a new role, you spend the first year trying to get your bearings straight. You tend to operate at a somewhat lower level at first, less strategic. Over time you tend to see what you can be doing at a higher level. That's been my experience.
The most successful model is a balanced approach. I get information from team meetings once a week. I have one-on-ones with each manager in the team once a week, the practice that HP calls management by wandering around. I'm on the HP Business Team, and we have instituted a number of very positive processes in the last year around checkpoints, and also for solution roadmap planning. As our Solution Teams plan their technology roadmaps, we try to understand what are the possibilities of what we can work on. Then we have an investment planning process that takes those roadmaps, and based on customer and business needs, determines what we are going to fund and staff.
Finally, I get a lot of information informally, through e-mail and a network of people who send me messages. I tend to not read 3000-L all the time these days, but I get a lot of messages that are a heads-up about threads on that mailing list. In the last year I've tended to spend a lot more time with other partner organizations within HP. That's an example where I tended to be more inwardly focused in my first years as a section manager.

What's the biggest focus for the 3000 labs management today?
One of the big focuses is efficiency, doing good planning to plot the right intercept point for where you want to deploy a new technology. You can avoid pitfalls if you can get up high enough to see the dead-ends and not waste time on it.

Do you consider one of the pitfalls offering a technology for the 3000 too early? Some customers believe HP should have a "build it and they will come buy it" approach in today's market.
Absolutely it's a pitfall. It's very complex because of the huge number of products. There are stated customer needs, based on what they read in the press, and then there's real customer needs based on what the reality is behind all the fluff in the press. When I say fluff, I mean obviously companies are out there trying to put their best foot forward and trying to drive their agenda. You have to sort through where's reality and what's the marketeering going on. Customers may say "I need X." But in reality they don't know all the details, because there's some reality behind something that's getting a lot of press. There may be more marketing than there's substance at the time.

As you have interacted with other HP organizations, have you perceived any change in them since Carly Fiorina became CEO?
HP is getting a lot more focused now. All the businesses are being shaken up right now, to focus very sharply and work on execution efficiency. I'm finding a lot of eagerness and willingness. The more we've talked about the HP e3000 and building the awareness, and since HP is getting leaner, what's happened is that is there's a smaller number of things going on — and the people working on those things are able to focus. One of the things we've realized is there's a lot of value in planning carefully. Trying to do a smaller number of things and do them really well. It's a shift to see us put all our wood behind a couple of arrows, instead of dying a death of a thousand cuts.

Does that mean when customers are out at meetings like the Solutions Symposium or HP World and start asking for many different things, they should reset their expectations?
The answer is yes, and it's a good thing for everybody. What it will mean is that if you're doing too many things, then a lot of those things are not sustainable over time. There's a lot of whiz-bang stuff coming out, but it's not sustainable in the sense of us not being able to do a really good job. Customers will have too many choices; they may choose the wrong technology or the wrong direction, and then it winds up a dead-end. It will let HP do a smaller number of things in a high-quality fashion, and maintain our investment.

What's your own philosophy about how third-party companies can fill the gaps in technology for the e3000?
We're trying to make sure we're a well-oiled, functioning organization internally. A big part of that is trying to focus on the things we can uniquely do the best job of. A big part of that is identifying where a channel partner or set of partners can do an equal or better job, and make sure we don't try to do those things. That has another benefit: it provides business opportunities to our third parties, which is very important. It means we'll have a more established and successful ISV software community. It's something we've been steering toward the past couple of years, and we want to continue our momentum toward that.

How has the staffing changed over the past year for the labs?
Those kinds of things do ebb and flow, and just before Y2K we'd done a lot of hiring. We needed to absorb some of that hiring, so we haven't over the last year done very much hiring. We are looking at doing some more. Over the last year we've been working on some very large key projects, and tried to stabilize things —both because of Y2K and because we'd had so much change in the organization. I would call the organization relatively stable right now.

It's probably easy for a customer to underestimate the scope of the 7.0 MPE/iX project that you're calling Bora-Bora. We'd heard that the 6.5 release took longer than you wanted it to, but you wanted to get it right, and now you're catching up. How's 7.0 going?
That's right. I would say Bora-Bora is going great. It's really big and a challenging project, just like 6.5 was really big. One of the bigger challenges was that 6.5 was in its final testing integration while Bora-Bora was going on — and all of that was happening during the Y2K transition. That was a massive effort and a difficult [one].
Now that 6.5 is out and we're past the Y2K pre-hysteria, we're able to focus. We had organized the lab so different people could focus on different elements of 6.5, Bora-Bora and Y2K. It still is a very busy time for us in the lab. As things complete on the R&D side, you need to go through all your integration and testing. We'll continue to have a lot of work with 7.0. Then we have other projects that we'll start up that are in planning right now. There's never a dull moment in the lab.

When you describe Enterprise Management, how do you break that down?
There's tremendous overlap between enterprise management, high availability and storage. If you take storage you might say disk arrays are part of storage, but there's a big part of high availability that's part of that. We tend to think of high availability as OpenView VantagePoint, or ITO as it used to be called. It could be tools like enterprise backup solutions like Legato, Hi-Comp and Veritas, and things like Web Console and DTC support. If it's something that a system manager or an operator tends to deal with, we think of it as Enterprise Management. We're trying to focus it on who's the end customer.

Do you think you'll get to an PA-8900 processor in an HP 3000? That's the last generation anybody's willing to talk about in a slide. Will you need all that PA-RISC headroom as you watch IA-64 take shape?
We try to understand our customer needs and work hard to understand the HP roadmap, and work to put those together in a way that makes the most sense for our customers and the business. If an element of that is delivering an HP 3000 on a PA-8900, then that would be something we would obviously do. It's a little early to talk about availability of the 3000 with that [processor]. Watching is exactly what we're doing: what happens in the overall market, and what happens in the HP product roadmap.

Which other HP partner organizations are you working with now?
I worked a lot with HP organizations in storage, quite a bit among the folks who develop hardware platforms in our Unix organization, a little bit in the networking organization. Even in manufacturing, because of the dependencies on platforms. I've spent a little time with the support organization, because some of the products we work on for support of the platform like diagnostics or Predictive Support are important. The more you see the issues and opportunities, the more you see the need to get out and about more. Then you can look long-term at where other HP organizations are going and plan your investments more intelligently. It's like getting above the trees, so you can see all the roads and detours you didn't see before.

What's changed on the line-up for the division's Solution Teams?
We've changed in an evolutionary manner. We based them around areas of customer need as opposed to areas of technology. We've split the datacenter management team into three areas: Enterprise Management, Storage and High Availability. Those are focused on one of our three division objectives, which is manageability.
Our Networking team spans everything from low-level network drivers up through higher level network services. Internet and Interoperability is broadly focused around the area of e-commerce and middleware. We have Application Development for languages and tools. [These teams focus on another goal], which is to enable customers to bring out Internet and intranet e-commerce solutions.
Some teams like the Database solution team span growth aspects and others. We have a Software Delivery team, and a team focused on Support and Training.
Then we have our Kernel Capacity Scaling team, and our Platform team focused on our new platforms. These teams are largely focused on enabling growth for our customers.

I noticed a lot more Solution Team leaders' names from Bangalore than the last time we took inventory. Does that reflect the sharing of lab leadership?
We're trying to grow strong leadership both in Cupertino and in Bangalore. We have three in Bangalore and six here in California.

Finding people that are good enough to do the work must be a challenge for you these days, with MPE/iX expertise in such short supply. Bangalore staffing has helped over the past few years. How has the mission changed for the Indian operations?
I was just out there in May, and the team is doing great. One of the big things we've been trying to do is an increased amount of new development work in the Bangalore team. We've been shifting more and more to them as the expertise and maturity level grows.

What kinds of new development are they doing in Bangalore?
It's quite a broad range. The team there is involved in database projects, networking and some of the work for the new network drivers for new platforms. The team is involved in some of the new kernel enhancements for 6.5 for the capacity scaling work. They're also involved in some of the forward-looking IO projects and enterprise management projects. In some ways, the CSY Cupertino and Bangalore labs are very complementary, in that there are skills common across both labs. We are trying to focus entire projects, or large chunks of projects, in one lab or another. This can minimize the very intense day-to-day communication. That can really be a challenge when you combine the time difference and other inhibitors to effective communication. I tend to have meetings very early in the morning. I try not to do meetings both very early and very late. I tend to be a morning person lately; my days start at 5 or 5:30.

So what kinds of new development are in the Cupertino section of the lab?
A lot of the Internet and interoperability work is in the Cupertino lab. The low-level network drivers are being done here. All of the low-level IO work is being done in Cupertino. We have a build testing integration team here, and some joint work on some of the future-looking projects. We have some joint projects going on to re-engineer some of our software delivery technologies. We think that's a big opportunity for continued improvement.

Does that delivery technology include work on Patch/iX and the kind of processes used to help on installations?
As an example we're looking beyond DDS [tape] as an installation medium. We're looking at Patch/iX and Stage/iX and how those are used. As we start to look at alternate boot devices, we're looking at the processes — not just how customers install, but how systems are manufactured and software is loaded onto the systems. We think that's an area where you're likely to see increased investment in the next couple of years.

What's happening on the low-end part of the HP 3000 lineup?
There's a new family of HP platforms we're working on, and a part of that is looking at a new low-end platform that is targeted for release in the 2001 timeframe. Some of the Solution Teams have work going on in other areas that will be applicable to many different segments. In the last year we brought out the AutoRaid disk array, which is kind of a lower-end product, at least relative to the XP256. We also have a lot of interest in being able to make full use of a large spindle, since disks are getting very large.

Is there an architectural advantage to working with IA-64 that makes it a no-brainer for use with the 3000?
It's a little early for us to talk about what our roadmap is going to be in that timeframe.

The last two division general managers were promoted from your current post. How does it feel to get into what's become the waiting chair?
It's a combination of both exciting and a great business and group of customers. There's a lot of excitement and pride associated with having that role. At the same time it's a little bit scary and frightening to be in a new role with a lot of responsibilities and accountability. It's very hard to be prepared completely for all that, so there's a lot of learning going on.