February 2000
HP wires e onto its 3000 brand
New e3000 name for platform signals positioning as Web engine
Editorial: Outside dazzle, inside changes

Hewlett Packard's 3000 division (CSY) renamed the HP 3000 as the HP e3000 this month, the first change in the product's name in its 27-year history and evidence of a new mission for the system.
The announcement "marks the evolution of the HP 3000 into a true Internet platform," said CSY General Manager Winston Prather. "Like HP, the e3000 has been reinvented to meet the e-business needs of today's marketplace."


CSY had to get permission from HP corporate branding committees to make the change in the product's name, a process which began in the division in late summer of 1999, about the same time as HP's corporate rebranding effort. But the CSY executives say that adding a popular vowel to their product is more than a bandwagon jump.

"It's not just because e and i are popular letters now," said Worldwide Marketing Manager Christine Martino. "We think of e as meaning a lot more to us. It's enabling growth, both for the installed base customers and the new customers we're bringing. It's for the enhanced application partner and solution focus, and it's for the idea of embracing new technology: Web-enabling technology, key middleware enablers."

"We're really looking to create a new image for the guy, with a new name and a new look," Martino said. "It's a re-imaging to highlight how real customers are solving real problems in Web-enabled environments and e-service environments. We want an attention-getting way of helping people to know that."

The technology attached to the rebranding covers a secure Web server for the e3000, message-oriented middleware, Java 2, a high-end server that's 44-percent faster than its predecessor, a Fibre Channel distancing solution, and new printer management software for the division's rebranded LineJet system printers.

HP is wrapping the enhancements into its 6.5 release of MPE/iX, which customers can order this month and which CSY promises to ship in March. The release will be the first to bundle a Web server with the fundamental operating system, along with the 1.2.2 version of Java/iX, which Java creator Sun Microsystems calls Java 2.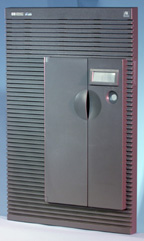 Although CSY has rebranded the system, the advances in the 6.5 release will operate with existing HP 3000s. HP has created new hardware bezels for rack-mounted HP 3000s in a slate-grey color (shown at right), "so you'll be able to look across a crowded computer room at a series of 9000s and 3000s and clearly pick out which are the 3000s," said Product Planning Manager Dave Snow. It was Snow who brought the rebranding proposal to the division last summer. All new systems will get new nameplates, whether they are racked models or not.

Martino said that HP's objective in renaming the system is "to really help people take notice of the 3000 again." New print advertising including the new brand is being scheduled for what HP calls its "solution-based" publications, those focusing on vertical markets such as healthcare and e-commerce. The installed base will get a mailing of a special coupon book containing discounts from software partners related to the e3000's launch. And HP came to its press briefing with new data on penetration in credit union and 911 dispatch industries which show the e3000 as a leader.
"We're not making it a key player in the Internet space, our customers and partners are doing it already," Martino said. "It's all of the boring stuff behind the dot-com stuff that's necessary to have a viable solution."

A higher high end

HP announced it will be shipping new 10- and 12-way e3000s as part of the launch, putting the Series 997 servers back on top of the performance charts. Measured against the previous 8-way top end of the 997 line, the 12-way 997 is 44 percent faster by HP's own 3000 Performance Unit benchmarks. But the 12-way 997 is a little less than 20 percent faster than the previous speed champs of the e3000 world, the Series 989/650 6-way systems. HP is charging a premium for this new speed of $160,000 over the current 8-way 997s, at a rate of $40,000 per new processor. The 10-way system will be available for an $80,000 upgrade over the 8-way price, a base unit price of $311,200. The 12-way unit's base price is $391,200, not including peripherals or operating system. Field upgrades to the new systems are available to current 997 customers.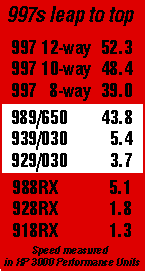 The horsepower will be most welcome in the healthcare industry, according to HP's own reports and those from consultants. One consultant said the performance shortfall for the largest healthcare shops today reminds him of the situation in the 1980s, when customers were "trying to make do with Series 70s before the Spectrums came out."

Martino said that the new top end "is real important for those folks who are pushing the limits of the system, like the HBOC customers." Customers must install the 6.5 version of MPE/iX to use the 10-way and 12-way Series 997s.

Lowering the low end
HP's announcement introduced the idea of "street pricing" of HP 3000s for the first time from Hewlett-Packard officials, acknowledging that the reseller channel may offer hardware at a price below the HP pricing.

The first example of such street pricing came from the new cost of the Series 918RX servers. HP announced a complete package including database, storage and console priced at $13,459, 25 percent below the current price for the RX models. HP is dropping the two-IO slot 918LX and 928LX models to focus on just the 918, 928 and 988RX models in its low-end line. An upgrade kit will continue to be available to convert a 928 to a 988, almost tripling performance. A 988 still clocks in about 7 percent slower than the new model of the Series 939 (see table at right).

"Street price will be lower, depending on what a reseller will be prepared to do with a customer," Snow said. Martino said the street price with volume purchases could be 25 percent below the suggested list price — which would put a functioning HP 3000 for eight users at just over $10,000.
The $13,459 configuration includes 64Mb of memory, 9Gb of disk, a 4Gb DDS-2 tape, 600VA UPS, and a console. This system has four IO slots.

Faster 929, 939 systems

HP is introducing new 030 models of the Series 929s and 939s as part of its rollout, replacing the systems' PA-7200 processors with next-generation PA-8000 processors. The newer 929/030 is about 12 percent faster than its predecessor and costs a little less, while the 939/030 will be 17 percent faster than its 939/020 predecessor. Suggested list price is $66,091 for a 929/030 unit with a 20-user IMAGE and MPE/iX license, 128Mb of memory, a 9-Gb disk, 12Gb DDS-3 tape, UPS, and a console.

Snow pointed out that when a customer puts MPE/iX 6.5 on these new models in the e3000 midrange, the servers will support up to 8Gb of memory. The new servers ship immediately and operate with MPE/iX 5.5 and 6.0, as well as 6.5.

6.5 rollout for Web
HP is shipping the latest version of its e3000 operating system as "a high-end performance release and a scaling release," Martino said. "We sometimes call this the HBOC release, because their customers really need this performance." Tool partners and application providers have been provided with the operating system to make software tuning changes and compliance testing.

The 6.5 release will also have an option to support a secure version of the Apache/iX Web server. This will be an item with a supplemental cost above the base license for MPE/iX, and customers will be able to order and take delivery of it in May.
This version of MPE/iX also includes middleware of an LDAP client and a JDBC driver, both of which have been available for the 6.0 and 5.5 versions of MPE/iX. It supports file sizes of up to 128Gb, and memory capacities larger than 3.75Gb. 6.5 will let customers put on as many as 3,300 users. It also increases TCP connections from 5,600 to 20,000, an improvement that Martino said is vital for the businesses deploying their HP 3000s in Web environments.

Snow said the operating system has been re-tuned to better use multiple processors. Semaphores in the operating system used to dispatch processes and memory allocation were tuned, he explained.
"If you had a number of processors, you tended to queue up on those semaphores, and that tends to slow the system down," Snow said. "We had to rewrite the memory manager and the dispatcher to break these two bottlenecking semaphores up into multiple semaphores. This let us achieve the performance we knew we could achieve with larger multiprocessing."

New markets emerging

While CSY was announcing its new e3000 brand, it pointed to several emerging markets for the server. Quintessential School Systems and SRN were noted as application partners in the education market. Martino said that Wired magazine recently named Wake Forest University as the most wired campus in the US, and SRN's Web-based 3000 solution is at the heart of the Wake Forest operations.
Martino also noted that 90 percent of the 911 dispatch systems in US cities of more than 100,000 are now using HP 3000s and the PSSI application. And of the top 100 credit unions in the US, 24 are managed using HP 3000s and Summit's Spectrum application.

New line printer brand

HP is also renaming the LP Series of line printers as HP LineJets, to demonstrate a closer link to the rest of HP's printer families. The LineJet units haven't been changed, and continue to be manufactured for HP by Printronix. HP is offering a new LineJet Print Manager solution, software written in Java that lets managers control LineJets from e3000, Unix or NT environments. It provides printer status information remotely through a Web browser, including securing printers against unauthorized intervention.

The LineJet printer line is a part of the HP 3000 division, and has been since sometime in 1999, CSY officials said. While development of the devices takes place at Printronix facilities, CSY is responsible for marketing and positioning of the products in HP server lines.

Storage bandwidth, capacity increases

Noting that Web applications require more distributed, faster storage solutions, CSY officials announced the release of an SCSI-Fibre Channel distancing solution and a new DLT8000 tape drive for use with the HP 3000. While HP's $9,000 DLT8000 is a tape unit being offered by other vendors, the distancing solution is a first: a $6,400 device that can place SCSI peripherals as far as 10 kilometers (6 miles) from an HP 3000. The device, manufactured by Vicom Systems for HP, is available immediately. It is targeted to operate with the SureStore Array Model 12H and XP256 storage devices.

HP is also announcing e3000 support for the Business Copy/XP and Continuous Access Manager/XP functions of the new SureStore E disk Array XP256 units. Support of this software previously required Windows NT systems; now it's natively supported with MPE/iX.