September 2005
HP's virtual 3000 chief continues work on futures
HP e3000 business manager Wilde says HP will take appropriate time to make source code license decision
When the Interex user group went belly up suddenly this summer, HP stepped in to offer 3000 users a room to meet in, lunch for attendees, and an international phone and Web hook-up to communicate. Hosting OpenMPE's meeting was an easy choice, according to e3000 business manager Dave Wilde. More complex decisions on the 3000's future are still occupying "roughly half of my time," he said in an interview just before the OpenMPE meeting.
Dave Wilde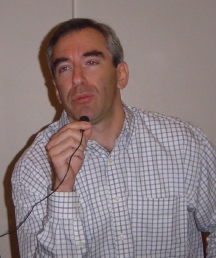 Wilde remains well-connected to the 3000 community although almost two years have passed since the vendor stopped selling the platform. When a customer posted a message on an OpenMPE bulletin board at 10:50 on the day we spoke about the deadline for a source code decision, Wilde knew about the e-mail just 15 minutes later when we met. Wilde has e-mails sent to his PDA, which he says helps him stay informed and helps him act promptly when needed.
"As a productivity aid, you find that when things happen as quickly as they do in the world today, it helps to get your e-mail quickly, and respond appropriately," he said. "Some messages can be discarded, many can wait 48 or 72 hours, and some deserve or require immediate action."
Customers are eager to hear an HP response on the question of licensing MPE/iX source to a third party by 2007. Wilde said the answer will come in 2005's fourth quarter.
"We're going to take the time we need to make a thoughtful and informed decision," he said. "In some forums we've indicated it will be during the fourth quarter of this calendar year. We have many things we need to factor in, and we're working through those items."
Wilde has worked since 2002 on the factors that can help customers succeed in their transition plans for the 3000, taking his post after the division's last general manager moved to HP's high performance technical computing sector. In those three years the vendor has expanded its offerings to 3000 customers caught by surprise when HP dropped its 3000 business.
Through much of the discussion and decisions to date, OpenMPE has provided input to Wilde and the 3000 team. He said that advocacy has helped HP respond to customer needs with offers HP usually doesn't extend.
"Some of the responses we made to OpenMPE advocacy were things we normally wouldn't do," he said. "As just a few examples, there's been access to select intellectual property by partners on a case by case basis. Training at no charge, education at no charge, a loaner program within some regions. We addressed these items as quickly as we could, and have continued to roll them out in the months and years after the announcement."
Advocacy was a significant part of the Interex objectives when the group formed. But Wilde takes note of a difference between an objective of letting customers drive a vendor's plan, versus focusing on needs for a greater group.
Customer advocacy has an important role to help companies understand how people are using products, but it has to be taken in the context of an overall business plan" he said. "Advocacy can generate a lot of short-term kudos, but not necessarily long-term sustainability.
"When we do planning, we want to look at all of the customer business needs. Advocacy is a part of that. Customer-driven can mean a company taking direct input from customers to make a particular customer satisfied on a specific point item. Customer-focused means looking at what the needs are from the overall community to determine what you can specifically build or deliver that adds value for a group of customers who will pay money that product or service. Customer-focused is more strategic, forward looking and sustainable, although it's a more complex way of looking at these things."
The complexity appears to be what's keeping HP's decisions on a slower pace than some of the 3000's most ardent advocates desire. With a face-to-face or telephone connection like the OpenMPE meeting, Wilde said his team gets a deeper look at what customers need to succeed.
"Many of the decisions that we make have multiple aspects to them. It really helps to understand their requests and how satisfied people will be by those responses. Most of these things have a richness to them. The more strategic they are and impactful they are, the more we at HP need to think about it — so it helps to have discussion about it."
HP has no plans for some things out in the 3000's future, like pulling off the slowdown code on newer models and turning over the copyrights to its technical documentation. But the documentation decision could fall into a "no for now" category.
"We announced previously that we intended to make access to some of the end-user documentation available to the community," Wilde said. "We have not been looking at releasing it freely for the community to use; the right to copy is not something we had been looking at."
Changes in HP's plans for the 3000's future are likely to get comment from OpenMPE as a major community input source. (Wilde also mentioned the 3000-L mailing list and the NewsWire's outlets as other input points.) HP wants to work with OpenMPE, he said.
"We want to understand who is constructively representing parts of the community and work with those groups. OpenMPE is an example of a group that has been very proactive over the last couple of years. It seems to be proactively taking steps to help facilitate that communication in the community. We're certainly supportive of and continue to work with OpenMPE."
In spite of the additions to HP's offers in transition, Wilde feels the original message from the vendor about ending the 3000 business remains unchanged. He doesn't think a new CEO for HP will ask that decision be changed.
"Though I'm always open to input from senior management, right now I don't anticipate any changes to what's driving our business plans. From statements he's made, Mark Hurd appreciates the need to be able to set up a business with the right measures and investment model. The 3000 is no exception to that."
But he added that HP is still listening for ways to ensure success in transition.
"Our three strategies have been fundamentally unchanged since the end of 2001. We will continue to deliver on the product and support roadmap commitments we made in November, 2001. We will help our customers and partners transition, hopefully to new HP solutions. Third, given those top two priorities, we are listening to and working to respond to the needs of the community. This is largely where these advocacy items fall."